Guide: Themes
(only for version 1.0 and higher)
Since version 1.0 of phpRecDB there is a new frontend customizing mechanism. It is based on the theming concept of the yii-framework.
themes-folder
You can now manage several different themes. Every theme has an own directory. Themes are saved in the directory phpRecDB/themes/. On this picture you can see there are 3 different themes installed on this example: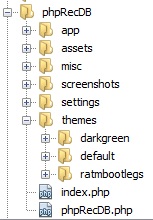 the default-theme gets selected when no other theme is avaiable.
changing themes
You can switch the themes in administration panal. Go to the Menu Configuration/Theme. Here you can see all installed themes and you can select the theme for your frontend: